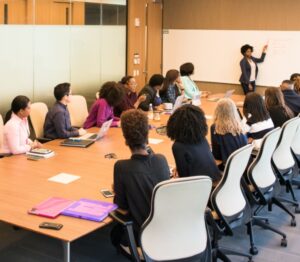 Our world response to recent events are making businesses realize that they must implement meaningful diversity and inclusion now. Companies, including nonprofits, are choosing to launch their diversity efforts with diversity training.
People often ask, "Is Diversity Training Effective?" Our answer is yes. Diversity training is effective when part of an overall diversity program. The training, especially if the trainer customizes it to the company, is a good preliminary tool. It is a useful method to educate teams and boards on diversity, its importance, its vast benefits, etc.
Before or after diversity training, the business should consider what else to do to build or enhance their diversity program. This includes assessing what to start doing and what to stop doing to foster a diverse and inclusive workforce. For example, a company should consider whether to implement a diversity program that includes a diversity strategy, goals, metrics, committee, employee resource groups, etc. Please share, in the comments below, your company's new diversity initiative(s).