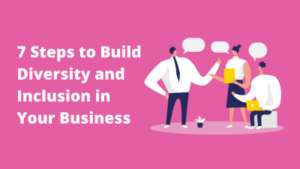 Diversity and inclusion have never been more important in workplaces around the world. While diversity is the right thing to do, it also has many benefits for businesses. We will discuss what is diversity, why it matters, and seven steps any business can take to build a diverse and inclusive work environment, where all employees feel a sense of belonging.
What is diversity?
Merriam-Webster defines diversity as "the condition of having or being composed of differing elements: VARIETY." The dictionary further states, "Especially: the inclusion of different types of people (such as people of different races or cultures) in a group or organization."
At Lotus Solutions LLC, we define diversity in the workplace as one that includes, at minimum, people of different races, ethnicities, genders, and generations, people with disabilities, people who are LGBTQ+, immigrants, and refugees. This definition includes employees, volunteers, and board members.
Why diversity matters?
According to Ziprecruiter, more than 86% of job seekers consider workplace diversity an important factor when considering employment opportunities. Workplace diversity statistics reflect that 57% employees want their workplace to do more to increase diversity. Additionally, 78% of employees said they work at organizations that lack diversity in leadership positions. The data shows that businesses need to do more now to increase diversity to attract and retain top talent.
Besides a broader talent pool, there are many other benefits to a diverse workforce. These include new, fresh, and different perspectives, increased employee performance, reduced turnover, greater innovation, faster problem-solving, improved leadership, and increased profits. Highly inclusive companies are more likely to hit their financial target goals by up to 120%. Given these multitude of benefits, every business should commit to diversity and inclusion.
Seven steps to build a diverse and inclusive workplace
Building diversity and inclusion in the workplace is an ongoing commitment. These are seven steps any business can take to get started.
Begin innovative thinking. Use a diversity, equity, and inclusivity lens as a form of innovative thinking. This allows businesses to positively impact the lives of people, those inside the company and those in the community, and increase the company's growth and revenue.
Compile meaningful data. Compile and analyze workforce data, such as gaps in diversity, the equity of the company's compensation structure (salaries, bonuses, etc.), turnover, etc. This will allow the business to determine what changes, if any, to make.
Develop a diversity strategic plan. Set diversity goals as part of the business strategic plan. Some companies establish a diversity mission statement and set smaller objectives to achieve the mission.
Examine whether there are any barriers to diverse populations joining the company and then adjust or eliminate those barriers. Barriers can range from communication methods and language to integration to cultural barriers.
Identify how to align diversity with your specific business goals. An example of this is businesses who aim to be an employer of choice because of their commitment to diversity and inclusion.
Gain the buy-in and support of top management to move forward with diversity initiatives. Top management should be the diversity champions in both their personal and professional lives.
Create a diversity committee with members across departments/teams and representative of a cross section of diversity within the company. Even a small committee can generate impactful initiatives, such as adding preferred pronouns to email signatures.
Which one of these tips have you implemented or will implement?