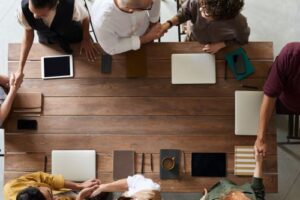 It is that time of year for resolutions and a new start. Because many of the struggles of 2020 remain, it is more important than ever for employers to find ways to support employees by instilling more belonging at work. Here are four things businesses can do in 2021.
1. Offer a flexible work environment. Flexible work is about how, when, and where work is done and makes it easier for employees to balance their personal and professional lives. A Gartner survey of found that 82% of companies plan to allow employees to work remotely at least part of the time after the pandemic. Similarly, 47% will allow them to work from home full-time. Remote work is an aspect of flexible work, though flexible work has other forms. For example, flexible work can mean a flexible schedule, such as a shorter workweek, letting employees choose their own hours, summer hours, etc. Increasingly more companies are allowing employees in salaried positions to define their work hours and focus on getting the work done versus how many hours they spend doing the work. Before COVID, many businesses thought they could not operate using a flexible work model. But companies realized it is indeed possible. Whichever form of flexible work a business implements, include flexible work in job descriptions.
2. Gather employee feedback on benefits and perks. Companies can show employees that they care about them in a holistic manner through benefits and perks. Standard benefits should include health insurance (medical, vision, disability, and dental), life insurance, a flexible spending account or health savings account, and retirement. Businesses should ask employees what additional benefits and perks they would like and implement them, if feasible. This can include items such as:
a. professional development and learning.
b. wellness program.
c. student loan repayment assistance.
d. tuition reimbursement.
e. child-care assistance.
f. discounts on food or grocery delivery apps, streaming services, etc.
Do not assume that adding benefits and perks will be costly. Ask your current benefit provider or broker about additional benefits or perks. Many companies offer some of them for free or at a reduced cost.
3. Examine the paid time off (PTO) policy. Every employee should recharge and disconnect from work, which is often harder in a remote work setting. Therefore, paid time off (PTO), where an employee has a pool of sick, vacation, and personal days, becomes even more essential. Businesses should examine whether their teams are taking PTO, encourage them to do so, and determine whether to increase PTO as an incentive for employees to reenergize. Some companies like LinkedIn, are even offering unlimited PTO.
4. Communicate openly and honestly. Effective communication is essential in every workplace and is totally free. Have you not known someone who loved their job, but left because of poor or inaccurate communication? It is critical that managers and leaders are open and honest with employees. I have seen managers or leaders (even well-respected ones) tell employees "little lies" for whatever reason and employees lose all respect for them. It is important to know how much communication each employee needs to effectively perform their job. You may ask, how will I know that? Simply ask the employee about the frequency of check-ins. Some employees may need weekly check-ins with their managers, while others may require more infrequent check-ins. Check-ins should always involve the manager asking how the manager can better support the employee. Good managers and leaders are there to support their teams and make their employees feel included, appreciated, and valued.
These are some of the ways to make your employees feel a greater of sense of belonging, which in turn leads to increases in productivity, more innovation and creativity, and less turnover. I encourage you to share what your company is doing this year to strengthen your commitment to your team. Remember your employees are and will always be your greatest asset!